BEBON > Selling list > - Prime ASTM 304 (1.4307) Stainless Steel Flat Bars
Prime ASTM 304 (1.4307) Stainless Steel Flat Bars
Prime ASTM 304 (1.4307) Stainless Steel Flat Bars
With good corrosion resistance and weldability,
ASTM 304 (1.4307) material
is often used for details within machining industry, building and construction.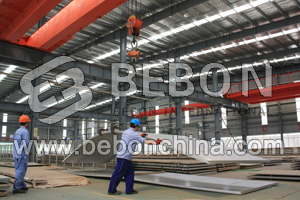 This alloy is a general purpose stainless steel, called 18-8-steel.
Most common used stainless steel.
Good corrosion resistance to uniform corrosion.
Good weldability.
The steel has improved machinability.
Non-magnetic but may become somewhat magnetic after cold working and welding.
Surface Finishes:
BA (bright annealed), N4 (polished), 2B (cold rolled, skin passed). Most 430 is used in the BA of N4 finishes. Flat products are available surface protected with white polyethylene (PE) film.
ASTM 304 stainless steel is a available in plates, machined round bar, drawn round bar, g flat bar, angle bar, and square bar. It is available in dimensions rang from 3mm to 500 mm depending on profile and execution.
Bebon has prime ASTM 304 stainless steel flat bars in stock. We can offer you ASTM 304 stainless steel flat bars with chemical composition and mechanical properties. For any other technical service, please contact us. We will deliver
ASTM 304 flat bars
in Shanghai port.