BEBON > Selling list > - Hot Rolled 304/304L 2B Stainless Steel Flats
Hot Rolled 304/304L 2B Stainless Steel Flats
Hot Rolled 304/304L 2B Stainless Steel Flats
Stainless steel quality: 304/304L
Surface: 2B/Polished
Types: Plates/Sheets
Thickness: 0.4mm-20mm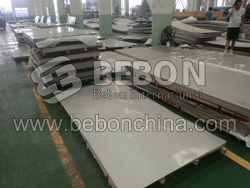 Quality 304
: it is the most common austenitic chromium-nickel stainless steel and is a variation of the classic 18-8 stainless. Its properties provide corrosion resistance to a wide range of atmospheric, chemical, textile, petroleum, and food industry exposures.
Quality 304L
: it is an extra low-carbon variation of Type 304. This helps in eliminating carbide precipitation due to welding.
Stainless is created by extracting chromite from underground mines. The chromite is crushed to produce a chromite concentrate. The chromite concentrate is melted in an electric furnace with other raw materials (iron ore, manganese, nickel, etc.) use for the specific stainless type.
After melting the material is formed into slabs and sent to a hot rolling mill. The rolling mill reduces the thickness of the steel and is cooled by water. The now coil is transferred to a cold rolling mill.
Typical uses for Stainless Steel 304:
Architectural trim, kitchen equipment, appliances, chemical equipment, clamps, cryogenic components, dairy equipment, evaporators, food handling equipment, hinges, marine, oil well filter screens, pressure vessels, sanitary fittings, shipping drums, textile dyeing equipment, and welded components of chemical, textile, paper, pharmaceutical and chemical industry processing equipment.
Typical uses for Stainless Steel 304L:
304L stainless steel is used primarily in welding applications due to the low carbon content which reduces the carbide precipitation.