BEBON > Selling list > - "L" in 904L Stainless Steel Meaning
"L" in 904L Stainless Steel Meaning
"L" in 904L Stainless Steel Meaning
The"L" in 904L stands for Low Carbon, specifically, that carbon added to the alloy represents .03 percent or less. This means that 904L has very good welding properties. It is also an austenitic alloy, which means that a nonmagnetic solid solution of ferric carbide or carbon in iron is used to increase corrosion resistance.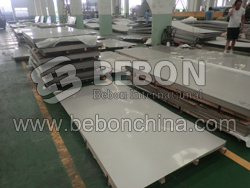 904L stainless steel combines molybdenum and copper with iron for tremendously increased resistance to reducing acids like sulphuric acid. It stands up extremely well to chlorides in the environment for low pitting and crevice corrosion, as well as stress corrosion cracking.
We can process this steel to fit your applications using our in house processing capabilities and service on your timeline.
SS 904L cannot be hardened by heat treatment. You can weld 904L stainless using any standard method, but it is susceptible to hot cracking. It can be machined but does not machine well. Common applications take advantage of 904L's corrosion resistance. These include acid processing plants, pulp and paper operations, equipment for cooling seawater, oil refining, and environmental equipment.
The chemical processing industry makes extensive use of 904L stainless steel due to its broad corrosion resistance. Grade 904L stainless steel is one of many stainless steel grades that can be purchased at BEBON Steel.