BEBON > Selling list > - Quality 409 Stainless Steel Polished Coils
Quality 409 Stainless Steel Polished Coils
Quality 409 Stainless Steel Polished Coils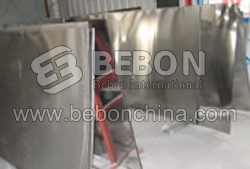 SS 409 is a ferritic stainless steel that has a good combination of heat resistance and corrosion resistance. Its titanium stabilized low nickel content provides for an economical metal resistant to corrosion and oxidation.
The
process of creating stainless
involves mining chromite from underground mines. The chromite is crushed to produce a chromite concentrate. The material is melted in an electric furnace with other raw materials (iron ore, manganese, nickel, etc.) use for the specific stainless type. After melting the material is formed into slabs and sent to a hot rolling mill. The rolling mill, also known as a roughing mill, reduces the thickness of the steel and it is cooled by water. The material is then transferred to a cold rolling mill. When the material arrives at the cold rolling mill it is covered in black scale and is sent through an annealing and pickling line to remove it.
Design features:
Good resistance to pitting and crevice corrosion.
Very good resistance to stress corrosion cracking.
Good resistance to intergranular corrosion.
Good formability and weldability.
Applications:
quality 409 stainless steel polished coil
is suitalbe for automotive and truck exhaust systems, catalytic converters, agricultural spreaders, gas turbine exhaust silencers, and heat exchangers.
As a 409 stainless steel industry, Bebon will offer 409 stainless steel coils and sheets with chemical composition and mechanical properties. 409 stainless steel polished coils are in stock. Welcome to visit our factory.