BEBON > Selling list > - 2B/Mirror Finish 304H Stainless Steel Sheets
2B/Mirror Finish 304H Stainless Steel Sheets
2B/Mirror Finish 304H Stainless Steel Sheets
2B/mirror finish 304H stainless steel sheets
are available in BEBON. We will provide 304H stainless steel sheet with 2B, 2D, BA and mirror finish. Please send your specification of Grade 304H stainless steel to us. We will response you very quickly. Below is the detail of Grade 304H.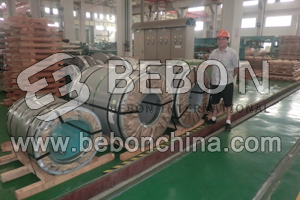 Grade 304H/1.4948 stainless steel is a variation of the 18% chromium-8% nickel austenitic Grade 304. It is an austenitic chromium-nickel steel alloy and the greater carbon content delivers an increased tensile strength and yield strength. The material is recommended for use in ASME pressure vessel in working service above 815 °C due to the grade's heat resistant properties.
The carbon content of Grade 304H is controlled to a range of 0.04% - 0.1% under ASME SA213 specification to provide improved high temperature strength to parts exposed to temperatures above 1500°F (815°C). The higher carbon content increases its strength, making the steel more suitable for use in applications where elevated temperatures are present.
Grade 304H has greater short term and long term creep strength than 304L at temperature up to 500 degrees C, and 304H is more resistant to sensitization than 304L.
Grade 304H stainless steel
is commonly found in the oil refining, gas and chemical industry and is used in industrial boilers, pressure vessels, heat exchangers, pipelines and condensers. The material is also used throughout the power generation industry.