BEBON > Selling list > - ASTM 440C Stainless Steel Machinability
ASTM 440C Stainless Steel Machinability
ASTM 440C Stainless Steel Machinability
ASTM 440C stainless steel
is a high carbon martensitic stainless steel. ASTM 440C stainless steel has good corrosion resistance in mild domestic and industrial environments including fresh water, organic materials, mild acids, and various petroleum products.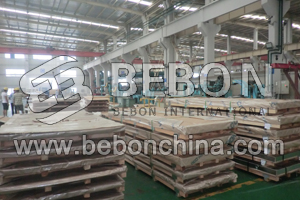 ASTM 440C stainless steel can be machined well, with all operations such as turning, beveling, cutting and drilling in annealed condition. Due to the high carbon content, this alloy machines somewhat like high-speed steel. As heat treated, ASTM 440C stainless steel is difficult to machine because of its high hardness.
Due to its high-hardness capability, ASTM 440C stainless steel can be easily air hardened and this alloy is seldom welded. However, if welding is necessary, it should be preheated to 260°C and post weld anneal treated at 732-760°C for 6 hours followed by slowly cooling in the furnace to prevent cracking. To obtain mechanical properties in the weld similar to those in the base metal, welding consumables of like composition should be considered.
ASTM 440C stainless steel is typically used in many fields like cutlery, ball bearing and races, high quality knife blades, valve components, pump parts, measuring instruments, surgical instruments and wear-resistant textile components.