BEBON > Selling list > - 0.4mm Thickness AISI 410 Austenitic Stainless Steel Coils
0.4mm Thickness AISI 410 Austenitic Stainless Steel Coils
0.4mm Thickness AISI 410 Austenitic Stainless Steel Coils
AISI 410 coil is considered as high austenitic grade with very high resistance to corrosion.
AISI 410 plate/coil
is commonly used in chemical and petrochemical industry for handling medium concentrated sulphuric acid. Also known as UNS S41000, these high performances austenitic SS 410 Coils differ substantially from more conventional grades with regard to resistance to corrosion and, in some cases, also mechanical and physical properties. We supply AISI 410 austenitic stainless steel coils in different sizes and shapes.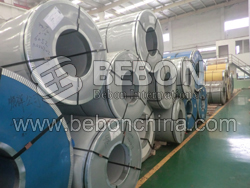 Bebon Interational is an
AISI 410 coil exporter
in China. We have 0.4mm thickness AISI 410 stainless steel coils in stock. We can offer AISI 410 coils with Mill test and ISO certification.
Standard: ASTM, ASME, AISI
Thickness: 0.35mm - 100mm
Grade: 410
Finish: Hot rolled plate (HR), Cold rolled coil (CR), 2B, 2D, BA NO(8), SATIN (Met with Plastic Coated)