BEBON > Selling list > - UNS-S17400 Stainless Steel Plate Factory
UNS-S17400 Stainless Steel Plate Factory
UNS-S17400 Stainless Steel Plate Factory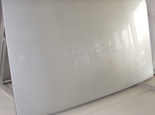 BEBON, a UNS-S17400 stainless steel plate factory, is able to manufacture and supply 630 stainless steel bars, 17-4PH alloy bars and UNS-S17400 plates. Stainless steel UNS-S17400 plate is a martensitic stainless steel alloyed with copper and niobium, which can be precipitation hardened by a simple heat treatment. This alloy has excellent corrosion resistance, approaching that of stainless steel grade 304. Designers and engineers often choose this alloy for its high strength, with corrosion resistance superior to most other high strength steels. UNS-S17400 steel is normally supplied in the solution annealed condition. 17-4PH alloy can also be supplied after a range of precipitation hardening treatments. The temper designation of the hardened material is Hxxxx, where xxxx is the precipitation heat treatment temperature in °F.
Heat Treatment:
The material is usually supplied solution annealed. It can be heat treated to a range of combinations of strength & ductility. Please ask Austral Wright Metals for advice. Solution annealing gives a relatively soft low carbon martensite. Tempering in the range 480°C – 620°C precipitates an intermetallic compound based on copper, which gives high strength and hardness. Because the precipitation hardening temperature is relatively low little or no scale is formed, and it is easy to restore the corrosion resistance of the part. The hardening is accompanied by a small distortion.
Characteristics:
The alloy is readily welded, formed and forged. Machining is carried out in the solution annealed condition and then precipitation hardened. As the hardening takes place over a range of temperatures, it is possible to vary the strength and ductility to achieve a range of mechanical properties. High strength bolting and fasteners in aerospace and chemical plant applications. The alloy has been used in the petrochemical, petroleum, paper and food processing industries and has performed well. The alloy is also used for boat propeller shafts, where it is supplied as precision straightened, centreless ground shafting. It is also available as investment castings for uses such as boat fittings.