BEBON > Selling list > - Japanese Standard JIS G4304 Hot Rolled Stainless Steel Flats SUS316L
Japanese Standard JIS G4304 Hot Rolled Stainless Steel Flats SUS316L
Japanese Standard JIS G4304 Hot Rolled Stainless Steel Flats SUS316L
Relative grades: SUS316, SUS316K, 316, 316H UNS-S31600, S31603, S31609
Standard: JIS G4304
Technique: hot rolled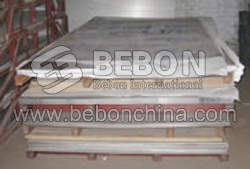 BEBONSTEEL is a reliable factory, manufacturer and exporter of JIS SUS316L stainless steel in China. We can offer
JIS G4304 austenitic stainless steel SUS316
, SUS316L, and SUS316H in plates, sheets, flats and strips. There are various sizes hot rolled stainless steel SUS316L flats and plates. Welcome to inquiry.
JIS G4304 SUS316 hot rolled stainless steel flats are finished in No1 (hot rolled, annealed and pickled), 2D (cold rolled), 2B (cold rolled, skin passed), N4 (polished), BA (bright annealed) surface. Austenitic stainless steel 304, 304H flat products are available surface protected with white polyethylene (PE) film. Protection with blue poly vinyl chloride (PVC) for deep drawing or black PVC (for heavy forming) is also available.
Grade SUS316 is a member of the 18/8 chromium nickel family of austenitic stainless steels, with an addition of 2% molybdenum for improved corrosion resistance, particularly to localised corrosion in chloride containing environments. The very tough and ductile austenitic structure gives grade 316 excellent formability and fabrication characteristics. The low carbon version, SUS316L, may be required for full corrosion resistance when sections thicker than about 5 mm are welded. The version with guaranteed high carbon, SUS316H, may be required for elevated temperature service, such as pressure vessels.
In most applications the steel is used where its corrosion resistance gives long lasting service life and appearance. The ease of cleaning and of maintaining a hygienic surface on the steel make it excellent for many purposes. Typical Applications include brewing and dairy equipment, evaporators, drums, barrels, heat exchangers, chemical and food processing, water treatment plant, chemical processing equipment, architectural and boat fittings exposed to marine and polluted atmospheres.