BEBON > Selling list > - Austenitic Stainless Steel Coils 304, 304H for Pressure Vessels
Austenitic Stainless Steel Coils 304, 304H for Pressure Vessels
Austenitic Stainless Steel Coils 304, 304H for Pressure Vessels
Uses: Pressure Vessels andfor General Applications
BEBON will offer this grade in plates, sheets, round bars, flat bars, strips and coils.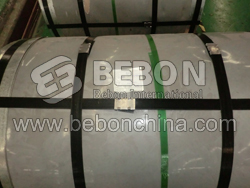 Key Features:
Austenitic Stainless Steel Coils 304 for pressure vessels is the most commonly used stainless steel. Grade 304 contains 18% chromium, which makes it resistant to many corrosive environments. It is austenitic in structure because of the 8% nickel it contains. The very tough and ductile austenitic structure gives grade 304 excellent formability and fabrication characteristics. It is an austenitic, corrosion resistant steel with excellent strength, toughness, fabrication characteristics and weldability. The low carbon version, 304L, may be required for full corrosion resistance when thicker sections are welded. Austenitic Stainless Steel Coils 304H version has a guaranteed minimum carbon content, which ensures good strength at high temperatures.
304, 304H stainless steel pressure vessel coils are finished in No1 (hot rolled, annealed and pickled), 2D (cold rolled), 2B (cold rolled, skin passed), N4 (polished), BA (bright annealed) surface. Austenitic stainless steel 304, 304H flat products are available surface protected with white polyethylene (PE) film. Protection with blue poly vinyl chloride (PVC) for deep drawing or black PVC (for heavy forming) is also available.
Typical Applications
Brewing and dairy equipment, evaporators, drums, barrels, heat exchangers, hospital equipment, refrigeration parts, chemical and food processing, shop fittings, bench tops, kitchens, kitchen utensils, sinks, wash troughs, urinals, hand rails, dishwashers, clothes dryers, ovens, heating trays, air conditioning equipment, guttering and rain water goods, counters and display cabinets, hot and cold food bars, commercial oven hoods, beer barrels.