BEBON > Selling list > - Introduction of Marine Stainless Steel
Introduction of Marine Stainless Steel
Introduction of Marine Stainless Steel
Nowadays, the steel material for marine environment is very demanding. The well-known
marine stainless steel
is ASTM 316. ASTM 316 stainless steel is the ideal material for marine environment.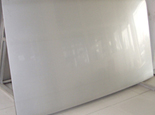 Marine stainless steels are austenitic stainless steel. They are non-magnetic and have excellent ductility, high strength, good weldability and corrosion resistance. Marine stainless steel are corrosion resistant because of the produced chromium oxide films on their surface. For example,
ASTM 316 stainless steel
is often added the element molybdenum (2%) to improve its corrosion resistance.
corrosion resistance depends mainly on their surface chromium oxide film having a high degree of corrosion resistance is formed.
Certainly, marine stainless steel will also corrode. Marine stainless steel may appear external atmospheric corrosion, crevice corrosion, galvanic corrosion and stress corrosion.