BEBON > Selling list > - What's Surface Finish of Stainless Steel?
What's Surface Finish of Stainless Steel?
What's Surface Finish of Stainless Steel?
Do you know surface finish of stainless steel? Surface finish is an important element in any specification of stainless steel regardless of the intended use. Surface finish is not only a question of appearance but also the stainless steel's sensitivity to corrosion and its cleanness.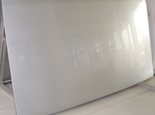 There are various surface finishes in industry designation. Therefore, it is important to pay close attention to the selection of the most appropriate finish for the application required. In commercial and hygienic applications, such as restaurants and hospitals, properly finished stainless steel is easier to keep clean. In consumer products, such as catering equipment, the lustre from a well polished sheet of stainless steel has strong sales appeal.
In addition to the visual appearance of polished stainless steel there are a number of functional considerations. In sanitary applications correctly polished stainless steel not only looks good but it helps to reduce the risk of bacteria being retained by the material.
In aggressive environments, such as in the nuclear or offshore industries, a correctly
polished stainless steel surface
has a better resistance to corrosion than a surface that is roughly or badly polished. A smooth surface is less susceptible to an accumulation of deposits and stainless, which often become focal points for localised corrosion.
Bebon can offer several stainless steel surface finishes: 2B, 2D, BA, No.1, No.2, No.3 and No. 4. We supply
stainless steel for restaurant
, hospital, sanitary and offshore applications. Please contact us if you want to purchase stainless steel.