BEBON > Selling list > - Hot forming of 321 Stainless Steel Plates
Hot forming of 321 Stainless Steel Plates
Hot forming of 321 Stainless Steel Plates
321 (UNS S32100)
is stabilized stainless steel plate which offers as its main advantage an excellent resistance to intergranular corrosion following exposure to temperatures in the chromium carbide precipitation range from 800 to 1500°F (427 to 816°C). 321 stainless steel plate is stabilized against chromium carbide formation by the addition of titanium.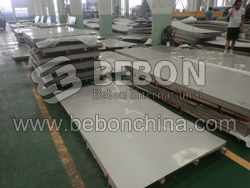 Alloy 321 is quite ductile and forms easily. 321 stainless steel plate exhibits good general corrosion resistance that is comparable to 304. It was developed for use in the chromium carbide precipitation range of 1800 – 1500°F (427 – 816°C) where un-stabilized alloys such as 304 are subject to intergranular attack.
321 ss is quite ductile and forms easily. The cold work hardening rate of 321 stainless steel plate makes it less machinable than 410 stainless steel, but similar to 304. The table below provides relevant machining data.
The alloy can be used in most diluted organic acids at moderate temperatures and in pure phosphoric acid at lower temperatures and up to 10% diluted solutions at elevated temperatures. 321 ss resists polythionic acid stress corrosion cracking in hydrocarbon service. It can also be utilized in chloride or fluoride free caustic solutions at moderate temperatures.
Alloy 321 stainless steel plate does not perform well in chloride solutions, even in small concentrations, or in sulfuric acid service.
Fabrication Data
321 stainless steel plate can be easily welded and processed by standard shop fabrication practices.
Working temperatures of 2100 – 2300°F (1149 – 1260°C) are recommended for forging, upsetting and other hot working processes. Do not work this alloy at temperatures below 1700°F (927°C). Material must be water quenched or fully annealed after working to re-attain maximum corrosion resistance.