BEBON > Selling list > - Schedule 40 347 Stainless Steel Seamless Pipes Stock
Schedule 40 347 Stainless Steel Seamless Pipes Stock
Schedule 40 347 Stainless Steel Seamless Pipes Stock
Standard: ASTM A/ASME SA 269/677
Pipe Sizes (Seamless): 1/2" NB – 8" NB
Pipe Sizes (ERW): 1/2" NB – 24" NB
Pipe Sizes (EFW): 6" NB – 100" NB
Wall Thickness available: Schedule 5S – Schedule XXS (heavier on request)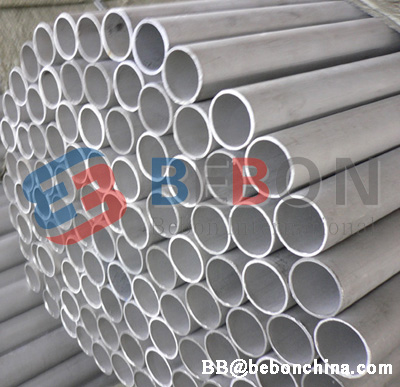 347 Stainless Steel Seamless Pipes & Tubes Other Materials Testing:
NACE MR0175, H2 SERVICE, OXYGEN SERVICE, CRYO SERVICE, etc.
Type 347 stainless steel has slightly improved corrosion resistance over type 321 stainless steel in strongly oxidizing environments. Type 347 is stabilized with columbium, it is preferable for aqueous and low temperature environments due to its good resistance to intergranular attack. Both 347 and 321 offer good resistance to polythionic acid stress corrosion cracking, encountered in oil refineries. The high temperature
oxidation resistance of 347
is similar to that of 304 stainless steel. Useful to 1500°F.
Often in many product forms, the grain size and carbon content can meet both the 347S and 347H requirements. Appropriate weld fillers are AWS ER347 bare wire and E347 covered electrodes.
Bebon is a leading supplier of 347 stainless steel seamless pipes in Chiba. We can offer various sizes for 347 stainless steel pipes. There are 60 tons
Schedule 347 stainless steel seamless pipes
in Tianjin stock. Welcome to inquiry.