BEBON > Selling list > - Cold Rolled Coil—AISI 420 Stainless Steel Coil
Cold Rolled Coil—AISI 420 Stainless Steel Coil
Cold Rolled Coil—AISI 420 Stainless Steel Coil
Bebon is able to supply
AISI 420 stainless steel coils
. AISI 420 stainless steel is a higher carbon version of 410; like most non-stainless steels. It can be hardened by heat treatment. AISI 420 coil contains a minimum of 12 per cent chromium, just sufficient to give corrosion resistance properties.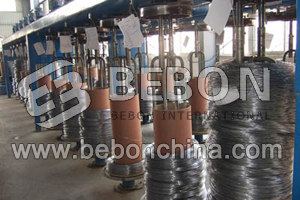 AISI 420 coil
has good ductility in the annealed condition but is capable of being hardened up to Rockwell Hardness 52HRC, the highest hardness of the 12 per cent chromium grades. Its best corrosion resistance is achieved when the metal is hardened and surface ground or polished.
AISI 420 Steel Coil Size Range:
Thickness: 0.30mm-14mm Width: 800-2000mm
Surface finish: 2B, BA, 8K, 6K, Mirror Finished, No1, No2, No4, Hair Line with PVC
Manufacture technology: cold drawn, cold rolled, hot rolled
AISI 420 stainless steel coil is typically used in many fields like fine cutlery, machine knives, surgical instruments, wear plates, cutting tools and knives and blades for the food processing industries.
Bebon can produce
AISI 420 cold rolled coils
with 150 tons one time. AISI 420 cold rolled coils can be tested with Mill test and BV certification.