BEBON > Selling list > - 2B Finish AISI 409 Stainless Steel Coils in Stock
2B Finish AISI 409 Stainless Steel Coils in Stock
2B Finish AISI 409 Stainless Steel Coils in Stock
AISI 409 (UNS S40900)
is ferritic stainless steel. AISI 409 coil contains 11% chromium which is the minimum amount for the formation of the passive surface film which makes stainless steel's corrosion resistance. This alloy achieves combines good elevated temperature corrosion resistance with medium strength, good formability, and overall cost. AISI 409 stainless steel rolled coil is used in several applications, and is particularly prevalent in the automotive industry.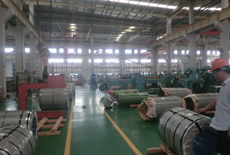 Bebon is a reliable supplier and exporter of AISI 409 stainless steel coil.
AISI 409 stainless steel coil
is fabricated in accordance with ASTM, ASME AISI standard. We have 80 tons AISI 409 stainless steel coils 2B finish in stock.
Application field:
Architectural applications such as windows and doors
Kitchen Equipment
Decorative applications
Sinks
Automotive trim
Railway cars
Trailers
Hose clamps
Medical equipment