BEBON > Selling list > - AISI 316 Molybdenum-bearing Alloy Steel Coil
AISI 316 Molybdenum-bearing Alloy Steel Coil
AISI 316 Molybdenum-bearing Alloy Steel Coil
AISI 316 stainless steel coil
is our main product. Bebon manufactures and exports AISI 316 stainless steel coils with prime quality. Welcome to inquiry.
AISI 316 is a molybdenum-bearing stainless steel. The molybdenum gives 316 better overall corrosion resistant properties than Grade 304, particularly higher resistance to pitting and crevice corrosion in chloride environments. AISI 316 stainless steel can be used in temperatures up to 550°F.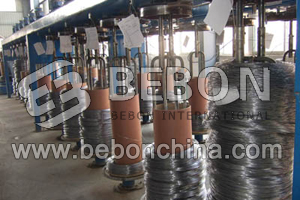 AISI 316 stainless steel coil is delivered in pre-tempered condition. Therefore, no further hardening can be obtained through heating. However, depending on the application, completed flat springs and sheet metal stampings will undergo a stress-relieving process.