BEBON > Selling list > - BA Finish SS 316H Steel Plates
BA Finish SS 316H Steel Plates
BA Finish SS 316H Steel Plates
SS 316H
has higher carbon content than SS 316. The increased carbon content delivers a greater tensile and yield strength. The austenitic structure make it excellent toughness, even down to cryogenic temperatures. 316H stainless steel is suitable for elevated temperature environments as does stabilized SS 316Ti.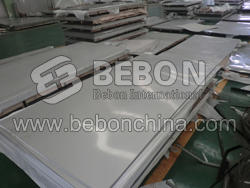 Bebon Steel is able to supply high quality
BA Finish SS 316H Sheets
, Plates, Coils which find application across diverse sectors. Also known as UNS S31609, we offer qualitative these BA Finish SS 316H plates in different sizes and shapes that are being designed as per the national and international standard quality of raw materials. Our BA Finish SS 316H plate is a superior carbon variation of SS 316 Sheets making the steel more appropriate for use in functions where high temperatures are at hand. Meanwhile, these BA Finish SS 316H Coils lends itself well for their usage in the gas, chemical and petrochemical industry. Our SS 316H plates can be offered in customized length sizes and shapes, and are available at market leading prices.
Specifications: ASTM, ASME, AISI
Thickness: 0.4mm - 100mm
Grade: Stainless steel 316H Sheets & Plates
Finish: Hot rolled plate (HR), Cold rolled sheet (CR), 2B, 2D, BA NO(8), SATIN (Met with Plastic Coated)
If you are interested in
BA Finish SS 316H steel plate
, please contact us. SS 316H plates have good machinablity. We will offer SS 316H plates with cutting, bending, coating, drilling and milling service.