BEBON > Selling list > - Duplex UNS S31803 Stainless Steel Features
Duplex UNS S31803 Stainless Steel Features
Duplex UNS S31803 Stainless Steel Features
Duplex UNS S31803
is a chromium nickel molybdenum austenitic ferritic grade. It resists chloride environments and sulphide stress corrosion. UNS S31803 grade duplex stainless steel combines improved resistance to stress corrosion cracking, pitting, crevice corrosion and high strength in comparison with other stainless steel grades. It is approximately double than the yield strength of standard austenitic stainless steel grades.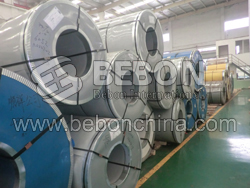 Chemical Composition %:
C≤0.03; Mn≤2.00; P≤ 0.03; S≤0.02; Si≤ 1.00; Cr: 21.0-23.0; Ni: 4.5-6.5; Mo : 2.5-3.5; N: 0.08-0.20
Good weldability in thick plates.
Good low temperature toughness.
Resistance to stress corrosion cracking of importance in many applications including hot water tanks, process plant, brewing tanks, and desalination plant.
As with other duplex stainless steel specifications, oxidation resistance is good at high temperature, though it is prone to embrittlement when exposed to temperatures above 300°C and is prone to embrittlement at 475°C when exposed for 2 hours only. NS S31803 grade duplex is also subject to embrittlement between 370-540°C when exposed over a longer period.
Higher strength which is around twice than that of Type 304 austenitic stainless steel. This leads to reduced plate thicknesses being used in fabrications reducing the weight which is of particular significance in items such as pressure vessels, storage tanks, and structural applications such as bridges.