BEBON > Selling list > - Price of AISI 321 Annealed Stainless Steel Sheets
Price of AISI 321 Annealed Stainless Steel Sheets
Price of AISI 321 Annealed Stainless Steel Sheets
BEBON has
AISI 321 annealed stainless steel sheets stock
and will offer competitive price of 321 annealed stainless steel sheets. Annealed 321 alloy offers similar resistance to general, overall corrosion as the unstabilized chromium nickel Type 304. Heating for long periods of time in the chromium carbide precipitation range may affect the general resistance of Alloy 321 in corrosive media.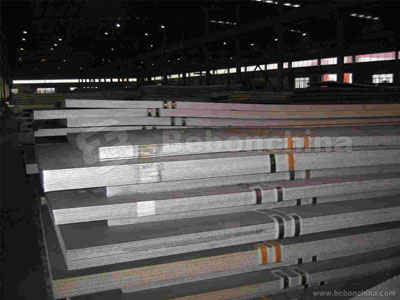 AISI 321 is a stabilized stainless steel which offers as its main advantage an excellent resistance to intergranular corrosion following exposure to temperatures in the chromium carbide precipitation range from 800 to 1500°F (427 to 816°C). Type AISI 321 annealed alloy sheet is stabilized against chromium carbide formation by the addition of titanium.
While AISI 321 continues to be employed for prolonged service in th4e 800 to 1500°F (427 to 816°C) temperature range, Type 304L has supplanted this stabilized grade for applications involving only welding or short time heating.
Elements:
Carbon: 0.08
Manganese: 2.00
Phosphorus: 0.045
Sulfur: 0.030
Silicon: 0.75
Chromium: 17.00-19.00
Nickel: 9.00-12.00
Titanium: 5x(C+N) min to 0.70 max
Nitrogen: 0.10
Iron: Balance
If are you are interested in AISI 321 stainless steel chemical composition, BEBON Steel will offer chemical composition testing. The Annealed stainless steel 321 sheet/coils are supplied with thickness 0.3mm to 14mm. Welcome to inquiry.