BEBON > Selling list > - 6 in. Dia ASTM A671 Carbon Steel Pipes
6 in. Dia ASTM A671 Carbon Steel Pipes
6 in. Dia ASTM A671 Carbon Steel Pipes
Low-temperature services
Excellent strength and ductility
Better weldability and greater toughness
Higher strength with low coefficients of thermal conductivity than alloy steels.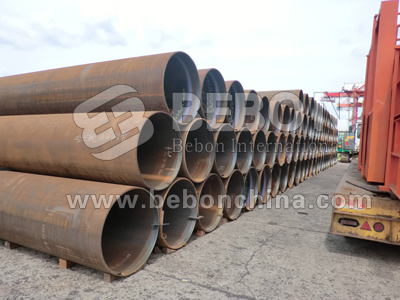 ASTM A671 specification nominally covers pipe 16 in. [400 mm] in outside diameter or larger and of 1/4 in. [6 mm] wall thickness or greater. Pipe having other dimensions may be furnished provided it complies with all other requirements of this specification.
This specification is designed for electric-fusion-welded steel pipe with filler metal added, fabricated from pressure vessel quality plate of several analyses and strength levels and suitable for high-pressure service at atmospheric and lower temperatures. ASTM A671 carbon steel pipe is suitable for low-temperature services serve at -45F°F (-45°C).
Heat treatment may or may not be required to attain the desired properties or to comply with applicable code requirements.
ASTM A671 Carbon Steel Pipe Packaging:
Small ASTM A671 CS pipes in bundles with strong steel strips
Covered with plastic woven bags; Suitable for lifting operation; Loaded in 40ft or 20ft container or in bulk
As per customer's requests