BEBON > Selling list > - SS 316Ti Seamless Steel Pipes Manufacturer
SS 316Ti Seamless Steel Pipes Manufacturer
SS 316Ti Seamless Steel Pipes Manufacturer
As a
SS 316Ti seamless steel pipe manufacturer
in China, BEBON can fabricate and supply SS 316 Ti seamless steel pipe 300 tons one month. We also provide a series of testing for SS 316Ti seamless steel pipe to guarantee its chemical composition and mechanical properties.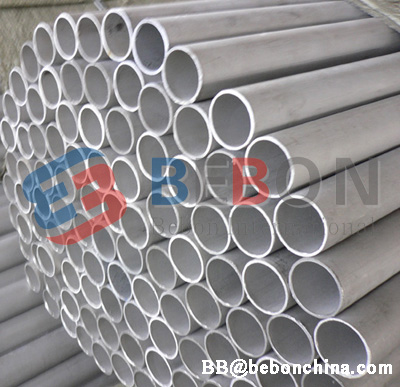 SS 316Ti has better high Temperature strength, and mechanical strength. 316Ti stainless steel can be used for equipment exposed to aggressive corrosive conditions and high temperature applications,including automotive flexible connectors, welded bellows, chimney liners, and flexible ducting.
Annealing:
The austenitic stainless steel are provided in the mill annealed condition ready for use. Heat treatment may be necessary during or after fabrication to remove the effects of cold forming or to dissolve precipitated chromium carbides resulting from thermal exposures. For the Alloys 316 and 317L the solution anneal is accomplished by heating in the 1900 to 2150°F (1040 to 1175°C) temperature range followed by air cooling or a water quench, depending on section thickness. Cooling should be sufficiently rapid through the 1500 to 800°F (816 to 427°C) range to avoid reprecipitation of chromium carbides and provide optimum corrosion resistance. In every case, the metal should be cooled from the annealing temperature to black heat in less than three minutes.