BEBON > Selling list > - JIS G4304 SUS410 Stainless Steel Plate
JIS G4304 SUS410 Stainless Steel Plate
JIS G4304 SUS410 Stainless Steel Plate
JIS G4304 SUS410 stainless steel plate
is considered as high austenitic grade with very high resistance to corrosion. JIS SUS410 stainless steel plate has good corrosion resistance, machinability, and general purpose cutting class.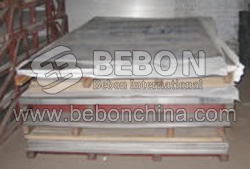 SUS410 stainless steel plate
is commonly used in chemical and petrochemical industry for handling medium concentrated sulphuric acid. Besides, SS 410 Coils differ substantially from more conventional grades with regard to resistance to corrosion and, in some cases, also mechanical and physical properties. Bebon will offer qualitative SSUS410 stainless steel plates in different sizes and shapes that are being designed as per the national and international standard quality of raw materials. Welcome to tell us the specification of SUS410 you want.
Specification: JIS G4304
Grade: SUS410
Thickness: 0.3mm-30mm
Width: 1000/1219/1250/1500/1800/2000mm
Length: length cut as customers' required