BEBON > Selling list > - Austenitic Stainless Steel 904L Schedule 40 Pipes
Austenitic Stainless Steel 904L Schedule 40 Pipes
Austenitic Stainless Steel 904L Schedule 40 Pipes
904L Schdule 40 pipe
is austenitic stainless steel. The "L" in 904L stands for low carbon, i.e., only 0.03 percent or less. Grade 904L austenitic stainless steel is also non-magnetic in all conditions, and has excellent machinability and weldability. Moreover, the austenitic structure gives it excellent toughness, even at cryogenic temperatures. This alloy is designed to achieve moderate to high corrosion resistance due to the high amount of molybdenum, chromium and nickel content. The resistance properties of grade 904L stainless steel pipes include good resistance to stress corrosion cracking, and pitting and crevice corrosion, as well as inter granular corrosion.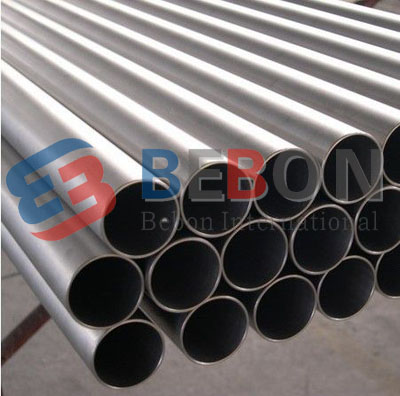 Austenitic Stainless Steel 904L Schedule 40 Pipes Properties
Corrosion Resistance: Excellent resistance to warm seawater and chloride attack. The high resistance against stress corrosion cracking is due to the presence of high amounts of nickel in its composition.
The addition of copper to grade 904L develops resistance to reducing agents including sulfuric acid in both aggressive and mild conditions.
Less resistant to nitric acid than grades 304L and 310L, which are free of molybdenum.
Should to be solution treated after cold working, for achieving maximum resistance to stress corrosion cracking in adverse environments.
Heat Resistance: Grade 904L stainless steel Schedule 40 pipes offer good oxidation resistance. Its structural stability diminishes at high temperatures, especially above 400°C.
Heat Treatment:
Grade 904L austenitic stainless steel Schedule 40 pipes can be heat-treated at 1090 to 1175°C, following by rapid cooling. Thermal treatment is suitable for hardening these grades.
Weldability:
Welding can be performed using all conventional methods.
Grade 904L austenitic stainless steel pipes do not require pre-heating and post-weld heat treatments. These pipes can be subjected to hot cracking in constrained weldments.
Electrodes and rods of 904Lstainless steel grade are used for welding steel pipes and other products of grade 904L
Applications:
Due to the different kinds of elements, 409L is designed for harsh industrial environments. Typical applications are shown as below: Wiring in electrostatic precipitators, Oil refinery components, Gas scrubbing plants, Pulp and paper processing industry, Seawater cooling equipment, Chemical processing industry, Acetic, phosphoric, and sulfuric acid processing plants.