BEBON > Selling list > - 2B Finish Stainless Steel Strips UNS S20910 (XM-19)
2B Finish Stainless Steel Strips UNS S20910 (XM-19)
2B Finish Stainless Steel Strips UNS S20910 (XM-19)
UNS S20910 (XM-19) austenitic stainless steel is available in plates, sheets, bars and coils/strips. We have 2B finish stainless steel strips UNS S20910 (XM-19) stock.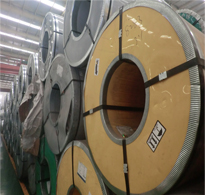 UNS S20910 2B finish austenitic stainless steel
is a mill finish, which is smooth and NOT the brushed finish commonly seen on kitchen appliances. It offers a combination of good mechanical strength (approaching twice that of Type 316 stainless steel) and high corrosion resistance.
This alloy has outstanding resistance to general corrosion and is superior in this respect to Types 316/316L and 317/317L in many media.
The mechanical properties at both elevated and sub-zero temperatures are very good and, unlike many austenitic stainless steels, the alloy does not become magnetic when cold worked or cooled to sub-zero temperatures. In the cold-worked condition the material possesses a yield strength up to over three times that of Type 316 stainless steel.
The resistance to selective attack such as crevice corrosion for UNS S20910/XM-19 stainless steel (annealed) is superior to that of Type 316/316L. In common with most austenitic stainless steels, for example Types 304 and 316, XM-19 steel may suffer stress corrosion cracking in hot chloride ion containing environments.
The 1950°F (1066°C) annealed condition provides adequate corrosion resistance for many applications combined with a high strength level. Where material is to be employed in the as-welded condition or in very corrosive media, the 2050°F (1121°C) annealed condition should be chosen. Material in the high strength cold-worked condition is often specified for bolting and shafting but there is some small compromise in terms of corrosion resistance in some environments when compared with the annealed condition.