BEBON > Selling list > - ASTM A671 Schedule 40 Black Steel Pipes Beveled
ASTM A671 Schedule 40 Black Steel Pipes Beveled
ASTM A671 Schedule 40 Black Steel Pipes Beveled
ASTM A671 Schedule 40 black steel pipes beveled is Electric-Fusion-Welded Steel Pipe for Atmospheric and Lower Temperatures.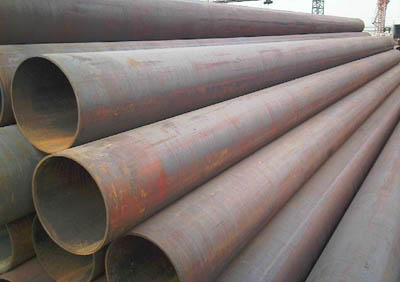 ASTM A671 specification covers electric-fusion-welded steel pipe with filler metal added, fabricated from pressure vessel quality plate of several analyses and strength levels and suitable for high-pressure service at atmospheric and lower temperatures. Heat treatment may or may not be required to attain the desired properties or to comply with applicable code requirements. Supplementary requirements are provided for use when additional testing or examination is desired.
This specification nominally covers pipe 16 in. [400 mm] in outside diameter or larger and of 1/4 in. [6 mm] wall thickness or greater. Pipe having other dimensions may be furnished provided it complies with all other requirements of this specification.
1.3 Several grades and classes of pipe are provided.
A671 Schedule 40 Black Steel Pipes Beveled Characteristics:
Low-temperature services serve at -45F°F (-45°C) Excellent strength and ductility
Better weldability and greater toughness
Higher strength with low coefficients of thermal
Conductivity than alloy steels
ASTM A671 Schedule 40 Black Steel Pipes Surface Finishes:
Oil-dip, varnish, Passivation, phosphating, Shot Blasting
End Finishes: Beveled, Square Cut, Threaded & Coupled
Visial inspection and testing, Hydrostatic testing or Ultrasonic examination, NDT and also with chemical and physical property inspection