BEBON > Selling list > - Stainless Steel 17-4PH Plate Supplier
Stainless Steel 17-4PH Plate Supplier
Stainless Steel 17-4PH Plate Supplier
As a stainless steel 17-4PH plate supplier, BEBON is able to manufacture and supply stainless steel 17-4PH plates with thickness upto 30mm. We will offer you stainless steel 17-4PH plate best price.
17-4PH alloy is precipitation, quenching, martensite stainless steel, and this level has high strength, hardness (up to 3000 C/5000 C) and corrosion resistance and other characteristics. After heat treatment, the mechanical properties of the products more perfect, can reach as high as 1100-1300 MPa (160-190 Ksi) compressive strength.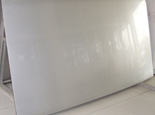 The corrosion resistance of Alloy 17-4PH is comparable to 304 stainless steel in most environments, and is generally superior to the 400 series stainless steels.
Stainless steel 17-4PH plate is used in applications where the combination of moderate corrosion resistance and unusually high strength are required. Alloy 17-4PH can be easily welded and processed by standard shop fabrication practices.
17-4PH stainless steel plate physical property:
17-4PH stainless steel density: 7.8kg/ m3
17-4PH stainless steel Melting temperature range:1400-1440 degree
17-4PH stainless steel plate typical applications:
17-4PH stainless steel plate and 17-4PH stainless steel sheets are mainly uesd for offshore platform, helicopter deck, other platforms, food industry, the pulp and paper industry, Aerospace (turbine), mechanical components, nuclear waste bucket.