BEBON > Selling list > - Hot Rolled SUS321 SS Bright Annealed Coils Direct Sale
Hot Rolled SUS321 SS Bright Annealed Coils Direct Sale
Hot Rolled SUS321 SS Bright Annealed Coils Direct Sale
SUS321 hot rolled stainless steel direct sale coils
are under JIS G4304 standard. Bright annealing SUS321 hot rolled stainless steel coils after cold rolling, and after a flat products. SUS321 hot rolled stainless steel coils surface glossiness is very good, has a high reflectance. As the surface of the mirror, hot rolled SUS321 SS bright annealed (BA) coils are used in home appliances, mirror, kitchen equipment, decorative materials, etc.
Properties: Welding equipment operating in highly aggressive environments, heat exchangers, muffles, tubes, parts of furnace fixtures, electrodes incendiary spark plugs. Corrosion-resistant and heat resistant austenitic steel.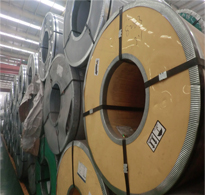 Bright annealed SUS321 stainless steel hot rolled coil is generally used in applications that require sustainability to high intermittent temperatures.
SUS321 hot rolled stainless steel BA coils package: Oiled paper packaging, steel roll edge and iron, avoid the edge of the scratch. Tie cross reinforcement, at least two root zone and coil connection, avoid transport packaging.
BEBON will offer various range of sizes in direct sale SUS 321 hot rolled stainless steel with SGS, ISO, BV and Mill Test.
Uses of SUS301 Stainless Steel Coils:
Aircraft exhaust manifolds
Expansion joints
Furnace parts
Heating element tubing
Heat exchangers