BEBON > Selling list > - Non-secondary ASTM A672 Carbon Steel Pipes
Non-secondary ASTM A672 Carbon Steel Pipes
Non-secondary ASTM A672 Carbon Steel Pipes
Non-secondary ASTM A672 carbon steel pipe
belongs to Electric-Fusion-Welded Steel Pipe. As a non-secondary ASTM A672 carbon steel pipe supplier and exporter, Bebon will offer you the ASTM A672 carbon steel pipe in seamless and welded types.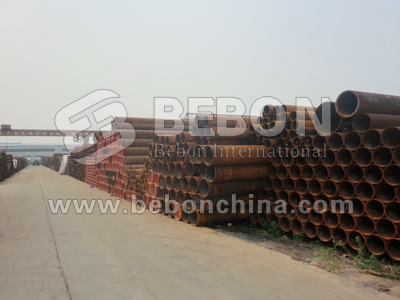 Non-secondary ASTM A672 seamless pipe and ASTM A672 welded pipes are suitable for high-pressure service at moderate temperatures. Bebon will offer your ASTM A672 carbon steel pipes with cutting, drilling, machining, tapping and testing. For any problems, please contact us.
Dimensions: ASTM, ASME and API
Standard: ASTM A672, ASME SA672
Size : 6" to 100" NB
Wall Thickness : 6mm to 100mmTHK
Grade: A672 CC 60, CC 65, CC 70
Specialized in: Large Diameter Size
Schedules: SS 5, S 10, S 20, S 40, S 60, S XS, S 80, S 100, S 120, S 140, S 160, S XXS
Mechanical Testing:
Transverse or longitudinal Tension Test and Flattening Test, Hardness Test or Bend Test
Heat treatment may or may not be required to attain the desired properties or to comply with applicable code requirements.
Impact Test-One notched bar impact test, consisting of breaking three speciments shall be made from each heat represented in a heat-treatment load on speciments taken from the finished pipe.